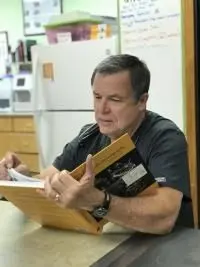 University of Florida College of Veterinary Medicine, Gainesville, FL
Citadel Alumni
Please welcome Dr. Dwain Zagrocki as our newest addition the to Union County Pet Hospital family. He started his advetnure as an Associate Veterinarian with us in May of 2013. Dr. Zagrocki came to us from central Florida. For the past 26 years, Dr. Zagrocki owned All Animal Hospital in Minneola, FL. All Care Animal Hospital specialized in cats, dogs, and horses.
Dr. Zagrocki graduated with Departmental Honors and General High Honors from The Citadel, with a Bachelor of Science in Biology. He then continued to complete his Doctorate of Veterinary Medicine from the University of Florida in 1984. Some of Dr. Zagrocki's endeavors have included the On-Call Veterinarian for the North American Veterinary Conference Equine program, interviews with radio stations, featured in numerous newspaper articles covering a variety of topics, guestlecturer for several equine and small animal groups, and a current member of the American Veterinary Medical Association.
Dr. Zagrocki lives with his wife, Denise, in Hayesville, NC. They enjoy hiking, kayaking, and attending church services and functions. Dr. Zagrocki and his wife share their home with 3 dogs and cats. Dr. Zagrocki looks forward to meeting the folks and pets of the North Georgia Mountaiins and Western North Carolina area.