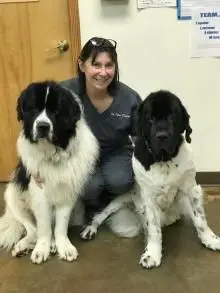 Auburn College of Veterinary Medicine, AL
WestPoint Alumni
Dr. Kenney graduated from the United States Military Academy at West Point in 1982. She served as an officer in the Army as a helicopter pilot on active duty until Nov 1989. She was in the Reserves until 2002. She enjoys returning annually to march back with the new cadets from their summer camp.
In 1993, Dr. Kenney graduated from the Veterinary School of Medicine at Auburn University. She opened the Union County Pet Hospital in 1994 and continues to operate to this day. She enjoys working with dogs, cats, horses, and exotics, including the odd mouse with delusions of grandeur.
Dr. Kenney enjoys showing her Newfoundland dogs in Conformation classes, Water Rescue, Drafting, and Obedience/Rally. She is the immediate Past President of the Southeastern Newoundland Club and a board member of the SENC Rescue Inc (Newfoundland Rescue for the Southeast US). Furthermore, she is a founding board member of the North Georgia Animal Emergency Hospital and currently presides as President of the board.
Dr. Kenney is a strong advocate of continuing education for veterinary medicine. She puts great importance on improving her own education and will put aside time to teach and share with others this passion for knowledge. One of her "pet peeves" is animal obesity, and many of our clients have become familiar with the threat of a "chubby chart". Her concern is the well-being of the pet and sometimes her passion can get the best of her. Apart from a busy schedule involving veterinary medicine and Newfoundland activities, she also enjoys motorcycle riding, hiking, skiing, reading and horseback-riding.